With 87% of remote team trusting video conferencing, 66% of remote teams preferring video conferencing as a part of their recruitment process, video meeting apps has now become a daily workplace necessity for remote teams.
Remote working (by wish or forced) has made 83% big enterprises and 27% small business to purchase video meeting apps for their operations. The percentage is too high to neglect, so we have curated list of 10 best video conferencing apps for remote teams.
Zoom
Zoom is a cloud-based video conferencing software that assists SMBs (small to medium business) and large enterprises with video conferencing, video & screen sharing interoperability.it is a popular choice for web conferencing with over one million participants every day. It can broadcast online remote meetings catering up to 100 interactive video participants and 10,000 view-only attendees. Zoom video conferencing is free for its basic plan which allows free video meetings up to 100 participants while paid for its other enterprise plans.
PROS
Gives you meeting report analytics in a dashboard
Gives you statistics on Live-in meeting monitoring
Gives you a whiteboard feature to hold a brainstorming session
Allows integration with Slack and Zapier (remote team tools)
CONS
Zoom in under investigation for Facebook data-sharing, the company's admittedly incomplete end-to-end encryption, and the vulnerability which allows malicious actors to access users' webcams.
PRICING
Zoom offers 4 pricing packs. The basic plan is free which allows meetings up to 100 participants. The pro version costs $14.99 per host per month with unlimited meeting duration hours. The level up enterprise version costs $19.99 per host per month for 100 hosts, unlimited cloud storage, custom emails, a vanity meeting URL and multiple add on.
Microsoft Teams
If your workplace is an Office 365 user then Microsoft Team is the perfect video meeting platform for you. The workplace communication hub, Microsoft teams allows you, to integrate Microsoft Word, Excel, PowerPoint & other office apps. Microsoft team allows you to video chat with 250 members and present live up to 10,000 people. The team is free with the Microsoft 365 subscription but the list of features increases with its premium paid versions.
PROS
Distributes information into channels i.e your information is organised, enhancing work focus.
Every film/documents can be accessed via an online filing system without leaving the platform, thus reducing time, increasing productivity.
User can take online notes on OneNote while being on video meeting.
CONS
The online filing system is not easily searchable and confusing to the users.
Microsoft Team gives limited flexibility in terms of replicating Team channel. You have to start a new structure from scratch for new projects even if with the same team members. Time spend doubles.
PRICING
Microsoft Team is available as a part of Microsoft 365 subscription. Premium subscriptions start with $5 per user per month to E3 plan for $20 per user per month with unlimited cloud storage, unlimited meetings etc.
Cisco WebEx
WebEx is a reliable conferencing solution. It was designed especially for video meetings with screen sharing to go along with already dial-in conferencing service. The free version allows only 3 participants to join video meeting while the paid version allows hosting for up to 200 participants. Signing up to WebEx comes with 14-day free trial period.
PRO
It offers a versatile suite option like a whiteboard, remote control features, desktop and document sharing options.
WebEx has integrated with Cisco, which makes it reliable and comes with security backup.
Calling feature is available directly without any meeting link and password.
CONS
The free version only allows video meet up to 3 participants.
Most features of WebEx are available only on its paid version.
You need to download plugins to use WebEx which requires administrator permission.
PRICING
Free to $89 per host per month, varying with the number of people per meeting, features, support, and storage. Enterprise licenses (more than 9 hosts or more than 100 people per meeting) are quoted individually. Per-minute and per-port licenses are also available by contacting sales.
Citrix Go to Meeting
GoToMeeting is another video conferencing app which provides simple video conferencing feature along with screen sharing. It has a one-click meeting button which lets the user start video meeting from Microsoft office to emails and chat links. It allows 3 participants video meeting for its 30 days free trial period.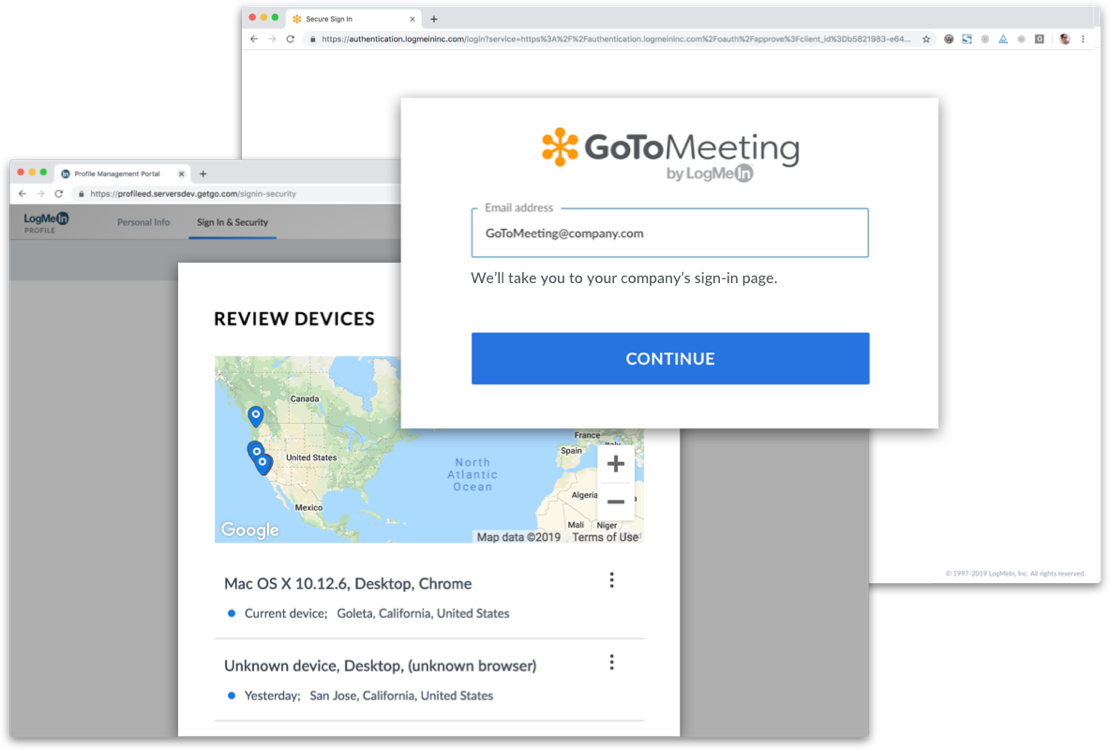 PROS
Its best for high quality integrated service in comparison to other video meeting apps
User can administer meetings and use VOIP from smartphones.
CONS
GoToMeeting lacks file sharing which is available in separate file share product.
It doesn't support Linux.
PRICING
GoToMeeting costs $19 to $49 per organizer per month, depending on the number of attendees and features. GoToWebinar (includes GoToMeeting): $99 to $499 per organizer per month, depending on the number of attendees. GoToTraining (includes GoToMeeting): $149 to $349 per organizer per month, depending on the number of attendees.
Google Hangouts
Google Hangouts is the longest-running messaging and video chat service. The app will only be available to its consumer accounts which is anyone with an @gmail.com or @googlemail.com email address from June 2020.
PROS
The interface is user friendly
No prior setup is required as it is used with the Gmail server.
CONS
Lacks additional features such as integration with advanced remote tools and no waiting room for members who join in early.
The file-sharing feature is not smooth.
PRICING
Google hangout starts with $5 for 30GB storage and doubles for unlimited storage. It is one of the most affordable tools in the market.
Google Meet
Google Meet is a video conferencing app which is available only to paid G-Suite users. The video meeting app was made free amid coronavirus outbreak for all the Gmail users. Google meet allows a meeting stretch up to 60 minutes The free version supports 25 participants while the paid version can support up to 250 participants with 100,000 lie streams.
PROS
Video meetings can be booked ahead using Google Calendar or Google Hangouts.
Meet allows you to share full desktop or user can choose one app to share, depending on the user.
CONS
Only paid G Suite accounts can create Google Meet appointments.
It does not have a modern added video meeting app features and flexibility.
PRICING
Google Meet is a feature of G Suite which costs $6 for basic G Suite with a capacity to hold meeting up to 25 participants. The business and enterprise doubles for 50 and 100 participants respectively.
Slack
Slack is an app specifically designed for remote collaborations. Video conferencing feature of slack is available only on desktop platforms while the android, ios app are limited to voice calls. The free version of slack allows video conferencing with individuals only. While with the paid version, hosting a meeting with several people is possible. Slack is reliable in remote project management but lags with video conferencing features.
PROS
Slack is easy, flexible, approachable to use.
It gives many more features useful for remote collaborations like analytics, payments etc.
CONS
It was designed specifically for audio calling meetings, video calling feature is added recently.
It doesn't work well in a free plan you have to upgrade its paid premium version for a smooth experience.
It doesn't support an end to end encryption.
PRICING
Slack pricing offers a free trial with only 2-person voice and video meeting and only 10 app integration. The standard version costs $2.67 per month which is suitable for small to medium business while the enterprise version costs $5 per month, both with 15 participant video calling feature but added project management tools.
Workplace by Facebook
A workplace is a remote tool which was created especially for remote teams. The interface is similar to a personal Facebook profile, which makes it user friendly. Groups are created for each team which can support 250 participants along with live throughout the organization.
PROS
User friendly
Easy file sharing, broadcasting of important information, advanced.
CONS
Your whole organization need to have workplace profile for video conferencing.
PRICING
Workplace's essential subscription is free which allows 50 groups with video calling in each group. While the advanced comes with $4 per user month and enterprise with $8 per user per month with unlimited file storage and add on feature for non-desk employees.
Blue jeans
BlueJeans is a video conferencing platform which allows user to join and host meeting online for both small to large businesses. It offers integration with Microsoft Teams, Facebook Workplace and others and has its cloud storage. 25 participants can join a video meeting in its free trial.
PROS
BlueJeans delivers secure meeting through standard end to end encryption.
File sharing, screen sharing and downloading are fast as it has its cloud.
CONS
Non-user friendly interface
BlueJeans paid version doesn't allow a large number of participants as compared to other video conferencing apps.
PRICING
BlueJeans standard subscription costs $9.90 per host per month while its pro subscription cost $13.99 per host per month with unlimited file storage and added capacity up to 100 members.
Bottom Line
The video conferencing technology has enabled seamless and smooth working of a remote team. When companies take advantage of such video conferencing apps, they see benefits like clear communication, meeting efficiency & productivity. The video apps are gaining popularity and are anticipated to be 4X popular by 2025. So now is the time to start making good use of the best meeting video conferencing apps for your remote teams.